Braised Baby Bok Choy with Ginger
Ingredients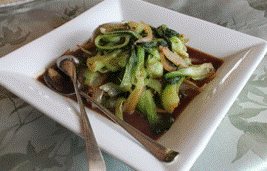 2 pounds baby bok choy, havled and/or quartered depending on the size
4 medium shallots cut in slices
3 tablespoons extra virgin olive oil
2 tablespoons pure sesame oil
1 large clove garlic
2 teaspoons grated ginger, or more to taste
1 1/2 tablespoons dark soy sauce
2 1/2 tablespoons light soy sauce
1/3 to 1/2 cup chicken broth
Freshly ground black pepper
Instructions
1. Heat the two oils in a large sauté pan. You may have to cook the recipe in two or three batches.
2. Add the shallots, ginger and garlic, stir frying for about 1-2 minutes. Do not let the garlic brown.
3. Add the bok choy and stir fry for about a minute to coat it completely with the oil. Then add the soy sauce and chicken broth. Stir fry for another minute or so, then cover the pan tightly with the lid (or foil). Reduce the heat and let it braise for another 4-5 minutes, until slightly tender.
4. Garnish with freshly ground black pepper before serving.
Yield 4-6 servings
Note: If you can't find baby bok choy, mature bok choy will work, too. Just cut it into smaller pieces and let braise for slightly longer, just until it's tender.