Quinoa Salad
§ 2 C. quinoa
§ 4 C. water
§ 1 tsp. garlic powder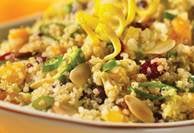 § 1 tsp. dried thyme
§ 2 orange bell peppers, diced
§ 1 sweet onion, julienned
§ 1 C. feta, crumbled
§ 3T fresh parsley, chopped
§ ½ C. pine nuts or sunflower seeds
§ 1-2 C. Lemon thyme vinaigrette (recipe follows)
Combine water, thyme, and garlic in small pot and bring to a boil. Add quinoa and reduce to a simmer. Cover and let cook for 15 minutes or until all water is absorbed. Let quinoa cool thoroughly. Once cool, mix quinoa, peppers, onions, feta, parsley, and nuts in large bowl. Add desired amount of dressing and serve. Can be made 1 day ahead and will last 2_3 days.
Lemon Thyme Vinaigrette
§ 2T garlic
§ 1C. lemon juice
§ 1T Dijon mustard
§ 2T thyme, dried
§ 1T sugar
§ 3C. canola oil
§ Salt and pepper to taste
Combine all ingredients in blender except for oil. Blend together and slowly drizzle in the oil. Season with salt and pepper to taste.