Country Style Pork Ribs with Pineapple-Chipotle BBQ Sauce
Ingredients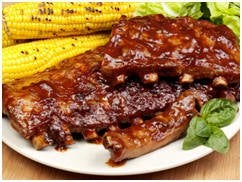 > 2 Cups Pineapple Juice
> 1 Cup Orange Juice
> 3 Tablespoons (or to taste) Minced Chipotle Peppers in Adobo Sauce
> 1 Tablespoon Ground Cumin
> 1/3 Cup Fresh Squeezed Lime Juice
> 1/3 Cup Chopped Fresh Cilantro
> 12 Country Style Pork Ribs (4-6 ounces each)
> ¼ Cup Freshly Cracked Toasted Coriander Seeds
To Prepare BBQ Sauce:
> Bring pineapple, orange juice, chipotles and cumin to a boil in a medium size sauce pan over medium-high heat.
> Reduce to low heat and simmer, stirring frequently until sauce is thickened and reduced by half. (Approximately 1 hour).
> Remove from heat and stir in lime juice and cilantro.
To Grill Ribs:
> Season ribs with salt and pepper.
> Rub ribs with coriander seeds.
> Grill ribs over medium heat 3-4 minutes per side.
> During the last minute of cooking, brush ribs with BBQ Sauce.
> Serve ribs with BBQ Sauce on the Side.