Broccoli Cheddar Soup
Ingredients: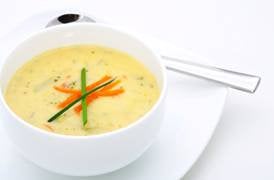 ½ yellow onions – diced
3 Celery Stalks – diced
1 Carrot – peeled and diced
1 Quart Chicken Stock
1 Pound Broccoli Florets
1 Quart Half & Half
2 Cups Cheddar Cheese – Grated
2 Tablespoons Canola Oil
Salt & Pepper to taste
Directions:
(1) In a large saucepan heat oil.
(2) Add onion, celery and carrots to oil over medium heat until soft (about 5 minutes).
(3) Add chicken stock and broccoli. Bring to a boil over high heat.
(4) Reduce heat once boiling and let simmer for 10 minutes or until broccoli is soft.
(5) Use either an emersion blender or regular blender to puree broccoli mixture.
(6) Transfer back to saucepan. On medium heat, add half & half and bring to simmer ( Do Not Boil ).
(7) Add Cheese and stir until melted.
(8) Add Salt & Pepper to taste and serve.
(9) If soup is too thin for your tastes – add roux (Melt 2 Tablespoons Butter over medium heat / Add 2 Tablespoons Flour. Stir. Add to soup to thicken.)