Dill Cream Sauce- Yields 20-25 servings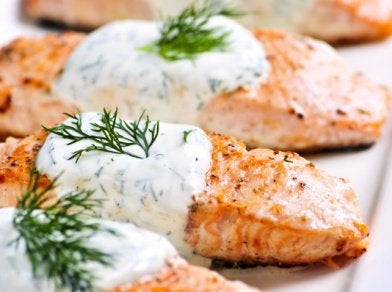 2T- Olive Oil
2T- Shallots, minced
¼ C- Fresh Dill
1- Lemon, zest & juice
½ C- White Wine
3 C- Heavy Cream
Salt & pepper, to taste
1.Sauté shallots in olive oil until translucent.
2. Deglaze with white wine and let reduce by half.
3.Add dill and juice and zest.
4.Add heavy cream.
5.Bring to a boil and reduce to a simmer. Let simmer for 20-30 minutes, or until thickened.
6.Season with salt and pepper to taste.
Our Chef seasons the salmon with salt & pepper and grills before drizzling with the Dill Cream Sauce.