January Recipe of the Month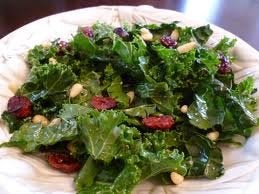 Massaged Kale Salad
Massaged Kale Salad Ingredients
3 bunches kale
1 ¼ C. dried cranberries
¾ C. bleu cheese crumbles
¾ C. sunflower seeds
3 small green apples, peeled and diced
½-1 ½ C. apple cider vinaigrette
2 t. salt
Directions: Remove stems from kale and chiffonade (cut into really small strips, like ribbon). Put kale into a bowl and pour salt on top and gently massage salt into kale until you see the kale start to darken in color and start to appear moist. Add dried cranberries, sunflower seeds, bleu cheese, and green apple. Pour ½ cup of vinaigrette and mix thoroughly. Depending on how much dressing you like and how dry your kale is you may need to add more. Start with the ½ cup and slowly add a couple tablespoons at a time until you are satisfied with the amount of dressing. Enjoy!
Apple Cider Vinaigrette Ingredients
3 cloves garlic
1 C. apple cider vinegar
1 T. Dijon mustard
1 t. sugar
3 C. canola oil
salt and pepper to taste
Directions : In a blender, combine all ingredients except for the oil. When adding salt to the dressing you should add very little to begin with because the salt in the kale and bleu cheese will add a lot and you don't want your dressing to be too salty and become overpowering. Once ingredients are in the blender, put lid on and turn on blend setting. Through opening on the blender cap, slowly drizzle the oil into other ingredients until the dressing becomes emulsified and thickened. Taste for seasoning and add more pepper if desired. I would add your dressing to the salad and taste before adding more salt. If you would like more salt then add until you get the desired flavor.