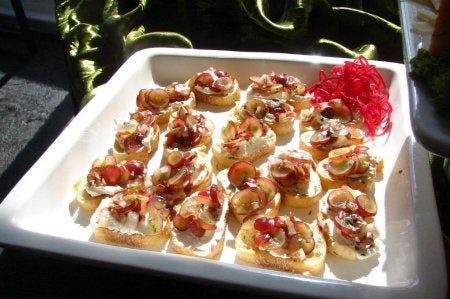 Grape Salsa on Goat Cheese Crostini
1 Cup Seedless Purple Grapes – Thinly Sliced
¼ Cup Red Onion – Minced
2 Tablespoons Cilantro – Chopped
Chevre Goat Cheese – Small Brick
2 Medium Baguettes
Mix sliced grapes, minced red onion and chopped cilantro together. Add salt & pepper to taste.
To make crostini, slice baguettes. Brush with olive oil and sprinkle with salt and pepper to taste. Bake in a 350 degree oven for about 10 minutes until golden brown. Let cool.
Spread goat cheese on crostini.
Top with Grape Salsa mixture and serve.