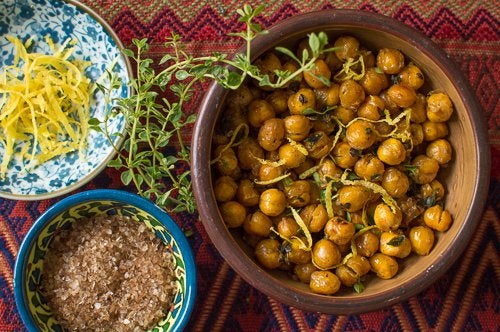 Savory Oven-Roasted Chickpeas
Total Time: 45 minutes / Yield: 4 to 6 servings
Crunchy and salty are the two things that make a perfect bar snack. These baked chickpeas are not only tasty but also a healthy snack full of protein. Just toss them with a little olive oil and some spices, then roast in the oven until crunchy. They'll stay crispy for a few days stored in a resealable bag at room temperature.
2 (15-ounce) cans chickpeas, also known as garbanzo beans, thoroughly drained and rinsed (about 3 cups)
2 tablespoons olive oil
1 tablespoon fresh lemon thyme (chopped)
1 teaspoon sweet paprika
1 teaspoon smoked sea salt (or to taste)
Fresh lemon zest to taste
Instructions
Heat the oven to 400°F and arrange a rack in the middle.
Place the chickpeas in a large bowl and toss with the olive oil, sweet paprika and smoked sea salt until evenly coated. Spread the chickpeas in an even layer on a rimmed baking sheet and bake until crisp, about 30 to 40 minutes.
Remove from the oven and toss with the lemon thyme and lemon zest.