Nanamio Bars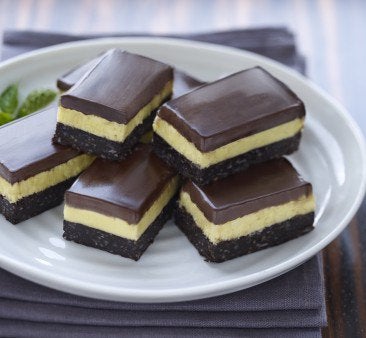 Ingredients
1/2 cup butter, softened
1/4 cup white sugar
5 tablespoons unsweetened cocoa powder
1 egg beaten
1 3/4 cup graham cracker crumbs
1 cup flaked coconut
1/2 cup finely chopped almonds
1/2 cup butter softened
3 tablespoons Heavy Cream
3 tablespoons custard powder
2 cups confectioners' sugar
4 ( 1 oz ) squares semi sweet baking chocolate
2 teaspoons butter
Directions
In the top of a double boiler combine 1/2 cup butter, white sugar and cocoa powder. Stir occasionally until melted and smooth. Beat in the egg, stirring until thick, 2 to 3 minutes. remove from heat and mix in the graham cracker crumbs, coconut and almonds. press into the bottom of and 8 X 8 pan.
For the middle layer, cream together 1/2 cup butter, heavy cream and custard powder until light and fluffy. Mix in the confectioners' sugar until smooth. Spread over the bottom layer in the pan chill to set.
While the second layer is chilling, melt the semisweet chocolate and 2 teaspoons butter together in the microwave or over low heat spread over chilled bars. Let the chocolate set before cutting into squares.
Makes 32 bars.