Your Wedding Day
Whichever venue you select, we will work with you to ensure that your wedding
reception is carried out just as you have envisioned. We stay up to date
with the latest trends, have fresh new inspirations, as well as respect
timeless traditions. We listen to your vision and couple it with our expertise
to create a memorable day for you.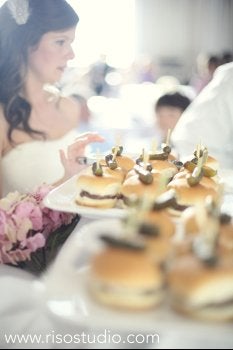 Complimentary Services – The following services are complimentary for your special day:
Personalized Tastings
Assistance with Perfect Venue Selection
Rental Coordination
Beautiful Buffet Table Décor
Cake Cutting and Service
Wedding Festivities – An upcoming wedding usually means additional festivities are on the
horizon. In addition to weddings we specialize in catering:
Engagement Parties
Bridal Showers
Rehearsal Dinners
Day-after Gift Opening
Delicious Cuisine – Our Chefs have several amazing signature dishes for you to choose from.
The sample menus on our website are a starting point – a way to
introduce you to an array of menu possibilities. We look forward to visiting
with you to get a feel for the special eve nt you are planning and tailor
a catering proposal specially for you.
Spirits, Beer & Wine – We hold a Washington State Liquor License and can provide you with a
host or no–host bar at your wedding complete with licensed professional
bartenders. We have a repertoire of tasty signature drinks for you to
choose from as well.
Late Nite Snacks – A fun treat for your guests after dancing the night away…
Waffle Bites with Crispy Fried Chicken – served with a Maple Syrup Pipette
Mashtini Bar – Yukon Gold Mashed Potatoes – served in a Martini Glass with
an assortment of toppings
Cold Milk Shooters with a Warm Chocolate Chip Cookie
Call one of our event producers and we will create a proposal for your
wedding reception.
Kris Brown 206.755.9575
A "Green" Company
Donates Used Oil
Buys Locally Grown Products
Partners with Cedar Grove to Compost Waste
Uses Water Efficient and Energy Efficient Equipment
Provides Bagasse Compostable Disposable products made from Sugar Cane Bi-Products